The Cruising Adventures of Joan & Ben Schuetz aboard
|
home


Part 12: A night not to remember

We had a terrific day cruise to Lagoona Escondido. There was a 4 to 5 foot long rolling swell and only about a foot of wind waves; just perfect. The weather was forecast to be good for at least the next three days. About mid-day we ran across a group of pilot whales, perhaps a dozen, spread out over a mile or so of our track. They were totally uninterested in Francesca and showed no concern as we passed a few of them within 30 or 40 feet. In a bit, we picked up a small tuna and around 4:00 PM arrived at the Lagoon.
The lagoon was recommended by other boaters as a great stopover on the way to the Bay Islands, but we though it interesting that the cruising guides didn't mention this lagoon except to say that it may warrant exploring. The guides are pretty explicit in saying that there are almost no protected anchorages on the north coast of Honduras. Yet, here was an almost perfect lagoon. It is egg shaped, about a half mile long, with a high rocky ridge forming a barrier to the sea. The opening into the lagoon is about 150 yards wide with some easily seen rocks to be avoided. We found that the west end had a little more surge than the east, so we dropped the hook in 10 feet of water with the 200 foot high rocky ridge on our starboard side. The ridges are lush with vegetation with a heavy mix of what look like, but aren't, date palms. The perfect spot and perfect weather.
We retired to the fly bridge for the sundowner gin & tonic and to listen to a troop of howler monkeys in the nearby trees. The only sign of human life was a lone indian in a cayuca who left shortly after we arrived. There were no bottles, cans, beach fires, or anything to suggest that we weren't but the second human beings to visit there. We commented on how the Hondurans had really overlooked a fantastic harbor and what a magnificent marina it could make.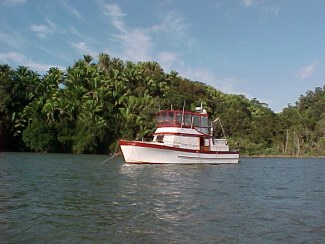 Francesca, missing bow pulpit after bad night
About 8:00 PM the wind began to pick up some and we could see lots of lightning in the distance. Must be a local storm, we thought. Nothing was forecast for the next three days. By 8:30PM the wind was howling, and there was a profusion of rain and lightning. This was bad, because we had not prepared for heavy weather and had only one anchor out. But the holding was very good and I wasn't concerned about dragging.
By 11:00 PM something around 5 inches of rain had already fallen. The waves in the lagoon were also amplified by the deep cut into the lagoon which quickly shallowed to 10 -15 feet. We were experiencing heavy seas in the lagoon. What a bummer! Well, it was a long night and we were glad to see the sun rise. At 6:00 AM we got the new weatherfax which warned of a large squall line that extended for about two hundred miles up through Belize. Gee it was nice to know after the fact.
On the Net at 8:00 AM we heard that the winds all through the area had gusts of 50 to 55 knots and there were many tales of woe. Several groundings, some boat damage, and we talked to a sailboat who lost his anchor and had to put out to sea and ride it out. Well, bad weather is part of the deal, but it's especially bad when there is no warning. We certainly would have done things different if there had been even a hint of it.
With good weather forecast for the next several days, we decided to lay over in the lagoon, get some rest and perhaps explore a bit. The rest part was easy, but since we weren't yet checked in to Honduras, we went ashore only briefly for Maggie and to check out a couple of trails that led into the jungle. We found that there was a lot to see here and may return later when the formalities were done.
Early Tuesday, Feb. 26, Francesca depart Lagoona Escondido and headed for the island of Utila about 45 miles east-north-east. It was a great day with little wind and only a lazy easterly swell. Two years ago, this area was cursed with a bad incident of piracy, but there has not been anything to match it since. Still, when a power boat made a bee line towards us 20 miles out to sea, it gave us a start. But it was a fishing boat and veered off to bottom fish the peak of a sea mount. We trolled, hoping, expecting to pick up a king mackerel or two, all the way from the Rio to Utila, but as mentioned, caught only the really small tuna.
There were numerous sea mounts nearly all the way to Utila. Cruising at 7.5 knots, the bottom would rise from 400 feet to 50 feet in just a few seconds. We had the charts of course, but were still a little shell shocked from the storm and when the depth alarm goes off with a fast rising bottom, it got our attention.
We arrived at Utila at 1:30 PM, launched the dinghy, visited a neighbor sailboat for the local low-down and went to check in. This we found to be the easiest of anywhere we have been. The Port Captain, understands some English, but doesn't like to speak it. So we kind of struggled through there. Immigration was in the same building and the officer processed us through quickly. The total charge for check in was about three bucks US. They don't have a customs office, agricultural inspector or health official. It was great.
Joan and I roamed about town for a while. The village has one main street that's a little over a half mile long. There are lots of shops, sport diving shops, restaurant/bars, and small hotels. Utila's main income I suspect is from tourist sport divers with fishing a close second. At 6:00 PM we had a schedule on SSB with Queen Mary and Sea Camp, both of whom were at Turneffe Reef in Belize. They were having lobster for dinner and rubbed it in good. We on the other hand grilled chicken breasts and retired early. Sometimes it seems life isn't fair, because at 9:00 PM the sound of a major league audio system from one of waterfront bars, over a half mile away, woke us. It blared for about an hour, then was reduced to a reasonable level. I think the bar owner wanted the tourists to know where the hot spot for the night was. We heard that each bar/disco takes a turn during the week as the party bar for the night. Their speakers were the advertisement.
This morning's weatherfax is a little alarming. The surface analysis shows very tightly bunched isobars surrounding a compact high pressure region just to the northwest. Yet, the weather service is predicting only 20 knot north winds. This doesn't seem right and were just now considering our options. Most likely we will leave Utila in an hour or so and go to French Harbor at Roatan for complete protection. Utila is good for northers, but if the wind shifts to the south as it appears it should, this will be untenable. The holding here is not good either, as the bottom is mostly grassy.
Stay tuned.
Joan, Ben & Maggie
m/v Francesca