The Cruising Adventures of Joan & Ben Schuetz aboard

Francesca



Part 22: At the dock

Thursday, 24 February 2000
After staying in the southwest corner of the lake for two days battling bugs and waiting for good weather, it finally broke. The slopes of the nearby mountains and lakeshore flatland are pretty heavily cultivated on the south shore. There are also large herds of cattle. The combination of fertilizers and cow dung has caused the streams and rivers in the area to be completely choked with weed. It is the kind of weed typically used in fresh water aquariums, but here it grows to such an extent that 12 foot deep water is not navigable. This was a real disappointment as the streams on the south shore have attractive canyons to visit. We think that it is likely that the bug problem is related to the ecological upset as well.
Oh well. We then set out to take perhaps two days to cruise back to the Fronteras area. But, each of the places where we had wished to stop was found not to be very inviting and we just continued cruising east. As it turned out, other than very beautiful scenery, the whole south shore of the lake offered no reason to dawdle. So, we just cruised back to Fronteras and checked in at Suzannah's Marina.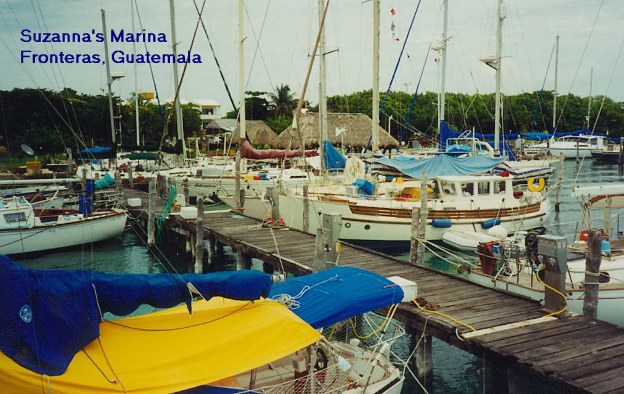 In the evening, we had dinner at the restaurant palapa (open air thatched roof shelter). It is run by a German couple. The special for the night was BBQ beef long ribs and it was very good. Dinner for two with several beers each and ice cream desert for Joan was about fifteen dollars. The chateaubriand, which we are told is really great and will try tonight, is thirteen dollars for two, not including drinks. I think we may like it here.
We plan to stay at the dock for some time and will probably pace ourselves by taking one inland trip a week. There are many places to visit ranging from Tikal (spectacular Mayan ruins), Antigua's shops and volcanoes, Guatemala City (well, OK), the inland lakes area and so on. Travel by bus is very inexpensive. For instance, it is about $3 by regular bus or $10 by luxury bus to Guatemala City. When we traveled in Guatemala 10 to 15 years ago, the roads were barely passable. Now, we are told, the main roads are all paved and inland trips are relatively fast and easy. There are many places that we have not yet visited and look forward to it.
So, for the next months while at the dock, the frequency of the newsletter will be less, but I'll try to get one out each week.
More.
Joan, Ben, Marv, Marge & Maggie