The Cruising Adventures of Joan & Ben Schuetz aboard

Francesca



Part 34: Treasures of a Lifetime

Thursday, 1 June 2000
This trip to Guatemala has certainly exceeded our expectations. We have many new and treasured friends and there have been numerous extraordinary experiences that we will always remember. Our decision to leave and head for home was a difficult one. But there are a number of things in the States that have become priorities and must be taken care of. So, tearfully, we left Livingston two days ago and are working our way back up the Belizean coast.
The last few weeks in Guatemala were fascinating. To really appreciate the experience, I must tell you about Maria and Norm. They are about our age and Norm used to be with the LAPD. I don't know exactly when or the exact order of things, but some years ago they sold their home, moved to Texas, and in a year or so built their 26 foot sailing vessel "Quetzal". It was named after the beautiful and rare Guatemalan national bird.
They sailed the Quetzal from Texas to Guatemala and began working with an orphanage near Fronteras. Certainly the orphanage does good work, but there were some funding and other irregularities that Maria and Norm weren't comfortable with. So, they began working with the indian village that I have mentioned in previous newsletters. The village is named "Las Brisas del Golfete" or "The Breezes of Lake Golfete". Their work is, at least in part, sponsored by a Catholic Church Diocese in Austin, Texas. They return to Austin once a year to raise funds and stage supplies. Maria generally flies to Austin and Norm sails Quetzal the 900 miles to the Texas coast. The funding they are able to obtain from organizations and corporations is used only for the village. Maria and Norm continue to support themselves from their dwindling savings. Living in the Rio carries with it some extra health risks, like malaria and other parasites. They have no health insurance.
The villagers built Maria and Norm a one room thatched roof building with a sleeping loft. When they are not on the boat, that is where they live. Over the years Maria and Norm have arranged for the building of a new school, church, clinic, village dock and periodically brought in teachers, medicos and others to help out. By our cushy standards of creature comforts and sanitation it's pretty basic and they are in many ways deprived. Water is dipped by bucket from an open well. Mosquitoes, mud, snakes, heat and humidity are things they appear to take pretty much in stride, but it must be very difficult.
Well, Maria flew into Guatemala City from the States on May 25th. While in the city, she was going to pick up four computers that David Vroom in Menlo Park, Calif. had arranged for Tyco (Raychem) to donate to the village. They had been shipped from California nearly two months earlier, but in a kind of typical way had not arrived yet. So Maria and her temporary volunteers took the bus back to the Rio.
We moved Francesca down near the village and dinghied some of our spare supplies to them. Maria invited us to dinner and while we were there, an indian man from another village, who was drunk, decided that he wanted to take our dinghy for a spin. The village President, Justo and a couple of dozen other villagers gathered on the dock to make sure that nothing happened to our dinghy. The would be joy rider, not understanding that the outboard had an electric start, couldn't find the pull rope. Justo got into the dinghy with him, took his hand and led him back onto the pier. The drunk then got angry and started throwing anything he could get hold of. He also nearly fell off the dock onto some stakes. So, several of the townspeople gently took him into the village, tied his arms and legs so he couldn't hurt himself or anyone else and left him on the grass in the center of town. All of the villagers gathered to see the goings on and it was then that we became aware of the trouble.
It kind of reminded me of the stock and pillory punishment for petty crime in US colonial days. They left the man there for a couple of hours. Then he was untied, given some food and finally taken to the edge of the village property. Completely unhurt, but certainly embarrassed, they sent him on his way.
Norm, meanwhile and on Quetzal, left the Texas coast 3 weeks ago with plans to make a non-stop trip with medical supplies back to the Rio. He was expected to arrive at Livingston any day. Since we were heading down the Rio to Livingston, Maria and her volunteers accompanied us on Francesca. That was the 28th of May. But the Quetzal was not there when we arrived. Quetzal was not yet overdue, but certainly due. We anchored in the harbor and checked out of Guatemala for an early morning departure.
Maria and her group checked into a hotel on the waterfront and that evening we all had dinner together followed by a tearful good-bye. In the morning, at 6:00 AM, Maria was on the dock and waved to us as we left. All day long, Joan and I felt pretty glum. We had left a special place and some very special people. When Francesca has some needed upgrades, (transmissions and a genset that are nearing end of life) we will return to the Rio to help as we can. By then a generator, that has been donated by a group in Texas, should have arrived.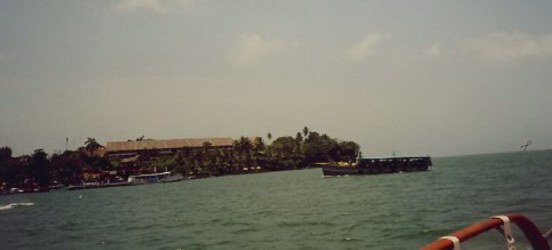 The harbor at the mouth of the Rio, Livingston, Guatemala
We cruised north, checked in at Punta Gorda Belize, and then made the 30 mile trip to the North Spot on the barrier reef. In the evening, the wind picked up to about 25 knots, but we were in good holding ground. In the morning, I checked into the NW Caribbean Net on HF radio and asked if anyone had seen Quetzal. A vessel in Isla Mujeres, Mexico answered and said that Quetzal had left Isla two days before. He said that he had talked to Norm and they had a bad gulf crossing, but were alright. We then sent an email to a marina at Fronteras asking them to call Maria at the hotel in Livingston. We had tried to make the call, but could not get through.
So, at this writing, Quetzal is probably within 50 or 60 miles of us. We have been calling them on VHF radio, but the range is apparently too great.
There are lots of other stories to tell about of our visit to the Rio, but I wanted to get this one out while the memories were fresh. Maria and Norm are extraordinary people. I know that there are lots of people making similar sacrifices all over the world, but they are our special friends. They have unforgettably touched our hearts and minds.
Today, we are anchored in Sapodilla Lagoon about 70 miles south of the Mexican border. The weather is kind of blustery so there is no rush for us to leave the protected waters of Belize. I think that it will settle down in a day or so.
More.
Joan, Ben & Maggie